How We Handle Trauma and Crime Scene Cleanup | SERVPRO® of Flagstaff/East Sedona
10/12/2020 (Permalink)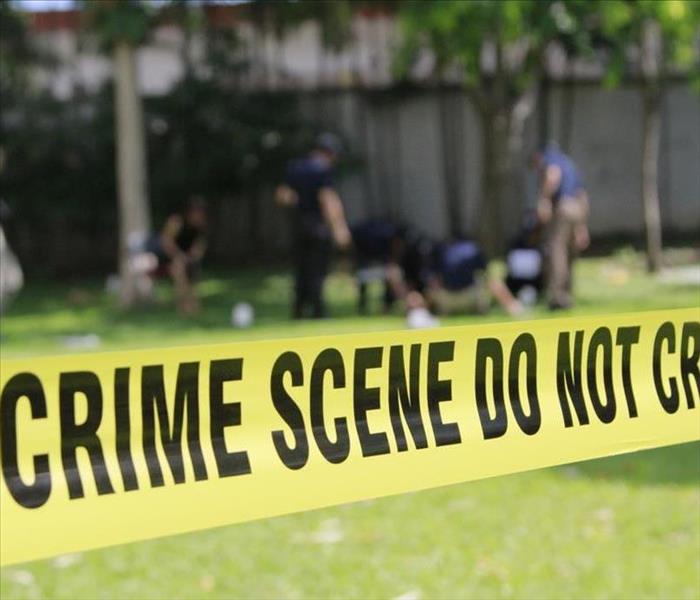 If you are in need of cleanup after an accident or other traumatic event, let us be a resource. We are the experts and will start the cleanup ASAP.
In the aftermath of a traumatic accidental event or crime scene, having a professional cleanup crew come in and take care of the damages is so important. Not only will this take care of any potential biohazards that may be present in the area, but it is also a great way to gain peace of mind and take something off of your plate during what is likely an extremely stressful time.
We can guarantee to not only be thorough with our cleaning, but we will also be extremely empathetic and respectful during a difficult time.
Our expert technicians have the specialized training, protective equipment and extensive experience to handle damages and cleanup tasks such as these with expertise and extensive levels of care. Once the police are done processing a scene, we can come in and make sure that all evidence is preserved while still cleaning up any potential biohazards or other dangers that might be present.
Our Trauma and Crime Scene Cleaning Services
Depending on the type of accident or crime that occurred, there will be many different moving parts that go into a careful and thorough cleanup. Once the evidence has been gathered, there are often many things that police officers and investigators leave behind, which is why we are here to remove all the damages surrounding the situation.
We have the capability to clean up the residues left by fingerprint dusting and the chemicals used to gather other evidence, in addition to any biohazards that may be present. We also have the expertise necessary to handle chemical residues from chemicals found in tear gas, pepper spray and fire extinguishers so there are no long-term health effects resulting from these things not being properly cleaned.
All of our technicians are also trained regarding the OSHA and EPA protocols to get rid of blood, bodily fluids, tissue remnants and other biohazards that are often present in these types of situations.
If you are in need of cleanup after a crime, accident or other traumatic event, let us be a resource for you. You can call us at any hour to have a rapid response to the situation, so cleanup can begin as soon as possible. Get in touch today to learn more.