How Businesses Can Prepare for Weather Events
2/24/2021 (Permalink)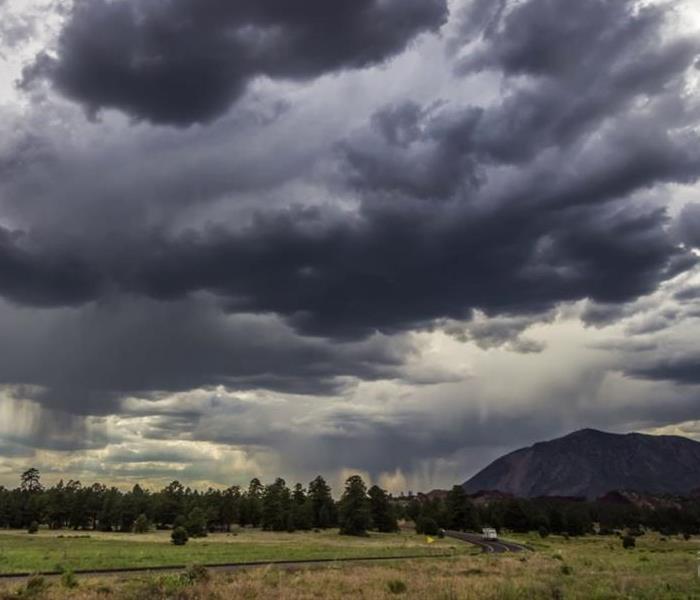 If you have any damage to your home or place of work, then contact SERVPRO of Flagstaff/East Sedona at anytime of day!
Storms occur everyday that can impact your business, and even knowing about them in advance does not always prepare you for the possible outcomes. SERVPRO of Flagstaff/East Sedona is happy to help with any storm damage that may occur, but you should have a plan in place to keep you, your employees, and your property safe.
Here are some ideas of what to include in your storm preparedness plan:
Minimizing Potential Damage to the Building and Contents: Before any storms occur, you need to try and identify any structures, inventory, or equipment that could be damaged and try to install some type of prevention system. These can be simple solutions such as placing tarps over equipment or using surge protectors.
Protect Your Records: Before any disaster occurs, you need to be backing up your data multiple times to different hard drives and remote servers. There is software that will backup your data and records on a schedule, and this is something that business should look into in order to protect their files. If you have paper copies of important documents, then keep them in a fire and water proof safe, put them in a lockbox at the bank, or keep them at a different offsite location.
Protect Your Employees: In order to ensure your employees safety, you need to create an evacuation plan that includes an offsite meeting location. If you have a larger building, an offsite meeting location is very important so that you can do a count and make sure everyone made it out safely.
Contact Your Customers: You need to reach out to your clients and let them know what has occurred and how you plan to operate following the weather event. Severe weather can knock out lines of communication, so make sure that you have a plan in place, and this can be through a mass text or email, or some other form of communication. Also have a plan in place that clearly explains to your customers how the business will operate if you are unable to work from the business location. It is important to identify locations where you can work remotely if there is damage to your commercial building.
If you do experience damage to your office, then give SERVPRO of Flagstaff/East Sedona a call. We travel around Northern Arizona responding to calls about water damage, fire damage, mold removal, and sewage removal. We would love to help you, and we guarantee to make it "Like it never even happened."