Common Trauma and Crime Scene Scenarios That Require Professional Cleaning | SERVPRO® of Flagstaff/East Sedona
10/19/2020 (Permalink)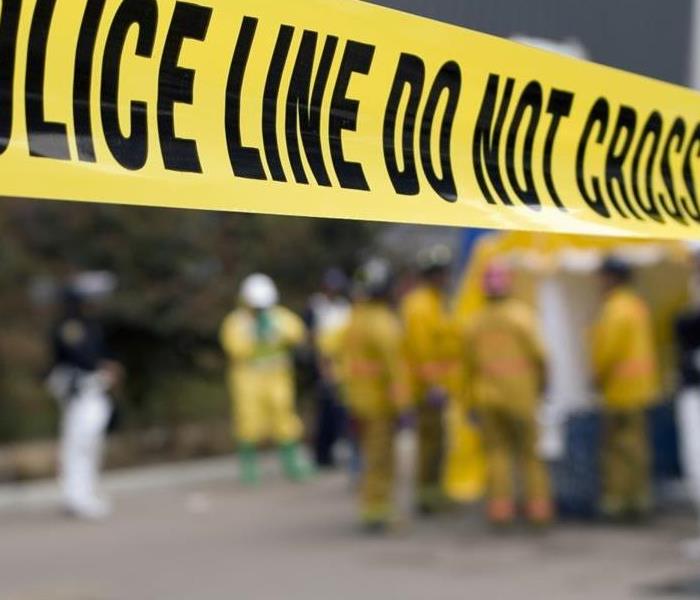 When you need restoration and cleaning services after a crime or other traumatic event, contact us right away. Contact us right away to learn more.
If your property has been the site of an accident, crime or other traumatic occurrence, you are likely extremely overwhelmed with how to handle the aftermath that these violent events can leave behind. After police process a scene like this, it is generally up to the property owner to have it cleaned and decontaminated—which is where we come in.
As our technicians are fully trained to follow the protocols set forth both by OSHA and the EPA regarding biohazard cleanup and restoration, you can depend on us to restore your property and ensure it is completely safe following a traumatic event.
Additionally, we can handle cleaning up all the chemicals left behind by a traumatic event or investigation, including pepper spray, tear gas and the powders used to lift fingerprints and other evidence. Here are some of the common crime and trauma scene scenarios we can handle:
Crime Scene Investigation Cleanup
After a crime scene investigation, there are likely many things present that must be cleaned up and restored before it is safe to re-enter the scene. Not only will there likely be biohazards involved, but there will often also be fingerprint dust, other chemicals from evidence gathering
and small residues that could pose a hazard. We can handle all of the above to make sure things are still fully cleaned.
Bloodborne Pathogen and Biohazard Cleanup
There are many pathogens and other biohazards that can be carried due to blood, bodily fluids and tissues being present on the scene, and it is important that these are cleaned up in a certain way so as to not pose a hazard to anyone on the property in the future. We are able to clean, disinfect and deodorize an area to ensure none of these things are left behind.
Illegal Drug Lab Cleanup
When synthetic drugs are created, there are many chemicals involved—most of which are extremely hazardous and can coat an area with residues, posing health effects for anyone nearby. We are able to follow both state and federal guidelines regarding how these chemicals should be handled to make sure they are cleaned up properly and safely.
When you need restoration and cleaning services after a crime, accident or other traumatic event, let us be a resource for you. We are here any time you need us, and will respond to you as quickly as possible after you place your call. Get in touch today to learn more.